Banner image: Frieze on Education Building, Bascom Hill
Events
GO BIG READ luncheon panel discussion
"The Death and Life of the Great Lakes," by Dan Egan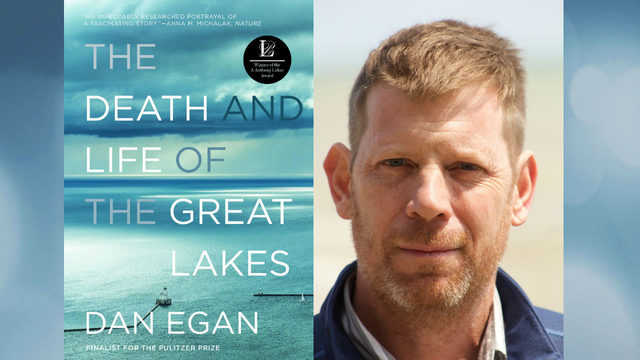 Image courtesy of channel3000.com

Wednesday, October 3, 2018
Noon - 1:30 at the University Club
Cost is $10, payable in cash at the door.


RSVP to stephen.block@wisc.edu by end of day, Thursday, Sept. 27.



Authored by Dan Egan, a Milwaukee Journal Sentinel writer who has spent years covering Great Lakes science and policy issues for the paper, this book is a page turner that reads like a mystery novel. He draws on the work of some familiar UW professors. For us, as Christians, the book has resonance as we know we were given a mandate in Genesis 1&2 to 'tend & keep' the earth. Come hear three of our own give brief reflections on the book:
Rick Lindroth - Prof of Entomology (CALS)
Tim Van Deelen - Prof of Forest & Wildlife Ecology (CALS)
Jeff Hardin - Prof of Integrative Biology (L&S)

NOTE: If you want a free copy of "Death and Life of the Great Lakes" for the October panel discussion, please send a request via this GBR web site: https://gobigread.wisc.edu/participate/faculty-instructors/apply-for-free-book-copies/. You may reference the UW faculty and staff Christian fellowship panel as the qualifying event for a free copy.
Evening author lecture on Tuesday, October 16, 7:00 pm. at Memorial Union Theater.



Graduate Christian Fellowship crossover event


"What it means for faculty to be in fellowship on campus"
Friday, September 28, 6:30pm at Upper House
The UW Faculty/Staff Fellowship is invited to the second large group of the Graduate Fellowship to hear three different faculty members share their testimonies about what being part of a Christian Fellowship/being Christian on campus has meant to them and how it has impacted their lives at UW-Madison.
Questions for the faculty can be emailed to lgcoor.wiscgcf@gmail.com.

---
Other upcoming events

"Reevaluating Rights: The Past, Present and Future of a Human Ideal"
Samuel Moyn, Yale historian and legal scholar
Thursday, October 18, 7:00 pm
Upper House

Details and registration here:
https://www.eventbrite.com/e/reevaluating-rights-the-past-present-and-future-of-a-human-ideal-tickets-47322474796


"Christianity and Human Rights"
Samuel Moyn, Yale historian and legal scholar
Friday, October 19, Noon - 1:30; lunch provided

Upper House
Details and registration here:
https://www.eventbrite.com/e/christianity-and-human-rights-tickets-47322845906


"Six Practices of the Church: Guiding Christians in Engaging the Culture"
Greg Thompson, Clayborn Temple
Friday, November 9, Noon - 1:30; lunch provided

Registration TBD


Lessons and Carols with the Graduate InterVarsity group, faculty, staff and members of the community.
Friday, December TBD, 7:30-8:30p
Calvary Lutheran Chapel (State and Lake)

Details TBD
Prayer Gatherings
For more on prayer gatherings, see the
Connecting
page…